An analysis on the Narco-Trade and its influence on Taliban-occupied Afghanistan
Author: Arkadeep Pal
Translated into Spanish by Silvana Gordillo González
Here's an undisputed fact, – the 20-year USA-led NATO campaign in Afghanistan can be chalked up in the list of several monumental foreign policy catastrophes by the Western Bloc. As it currently stands, the officials of the Islamic Republic of Afghanistan are driven out (some such as Ashraf Ghani did so voluntarily), and the brutal, and terrorist non-state actor group called Taliban is in-charge. Despite taking over, Taliban, or as they now refer to themselves as, – "The Islamic Emirate of Afghanistan" have a serious problem at their hand; the oldest problem in world history, – money.
The Afghan GDP contracted at almost a 2% rate, from what was already their lowest quarter; to make things worse since the Pashtun-originated terrorist group took over, – over 9 billion of Afghan assets have been frozen by foreign banks. (Abnett K, 2021) Adding what may seem insult to injury, – most countries in the world (barring the People's Republic of China, and Pakistan) seem to be readying economic sanctions against the newly formed government. (PTI, 2021)
So, the question arises, – how will the newly re-constituted Islamic Emirate sustain itself?
Apart from the obvious answer of forced taxation policies, and alleged foreign donations from countries such as, – The People's Republic of China, The Kingdom of Saudi Arabia, the Islamic Republic of Iran, and the Islamic Republic of Pakistan; perhaps their largest source of income comes from a source that has been the cause of anguish to the region, – opium and related narcotics. (Felbab-Brown, 2021)
While a Spokesperson for Taliban has claimed that the new regime will not rely on narcotics for sustaining its economy, calling it contrary to the provisions of Islamic Law, (Landav J, 2021) reality is that Hassan Akhund and his newly constituted cabinet have little choice but to rely on narcotic sales. According to the UN funded World Drug Report of 2020, (UNODC, 2021) opium and related narcotic activities contributed close to 400 million Dollars in profits to the Taliban, and this is before they were in-charge of the entire country and its administration. The group imposes a 10% tax on every step of the drug production supply-chain system, including farmers who cultivate poppy.
However, to fully comprehend the influence that narcotics can have on the Afghan economy, one only needs to look at the 2017 statistics. The year saw the Afghan economy add 1.4 billion Dollars or 7% of the total GDP only through the sale of opium. The number goes up to 6.6 billion Dollars if all narcotic activities are taken into consideration; that is close to 5% of the total GDP of the country. (Landav J, 2021).
The renewed Islamic Emirates' narcotic policy will not only limit its influence to the Afghan border. Afghanistan has been the leading producer and distributor of opium for the entirety of the 21st Century, (as the figure below illustrates) the rate of production is only likely to increase in the coming years, with new administration whose priority would be, to put it plainly, put coppers in their coffers.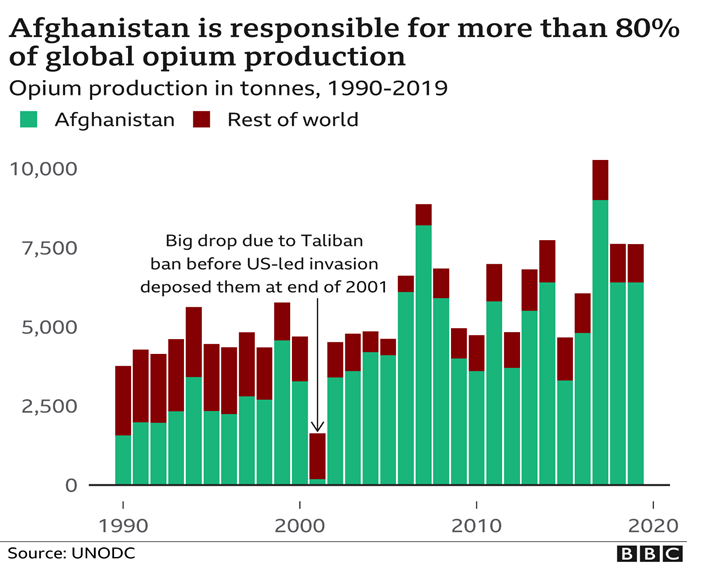 The United Nations Office on Drugs and Crimes estimate that close to 95% of all narcotic exports, especially opium, ends up in the streets and markets of Europe. (Landav J, 2021) However, the packaging, distribution, processing, and related process go through countries such as Russia, parts of Africa, Middle East, and even Asia. There seems to be a growing market for Afghanistan-grown opium in the United States as well, with over 1% of all opium in the USA coming from this landlocked country. (Felbab-Brown, 2021)
One has to understand that the narcotic industry is not what is seems on the surface, and it doesn't only consist of production, and exportation. What makes scholars claim that Afghanistan is a narco-state is that narcotics related activities make up significant portion of jobs and employment in the state, with many making their livelihood through narcotic related activities.
Some scholars and statisticians estimate that just the transportation logistics bring about 40-50 Million Dollars to the Afghan GDP. This makes the Taliban claim of shutting down the Afghan narcotic industry even more implausible, especially in a state where joblessness is over 11% and rising. (Peters G, 2009).
What is the way forward for the renewed Emirates in relation to the Narco-trade?
While it has been established that it may not be possible for the new administration to stop narco-production and related activities, one could be forgiven if they thought that the Taliban ruled state would try and stay under the radar on its narcotic related activities, in an order to ease the process of getting recognized by other sovereign states across the world. However, that is evidently not the approach the new government is taking. New reports from Mexico claim that the Taliban is in the process of creating an alliance with the Sinaloa Cartel of Mexico in order to ramp up their joint presence in the United States of America, and Canada; a step that will solidify Taliban-produced narcotics' presence in the North American market. (Hernandez, A., 2021)
To the question of what the global community can do to ensure that Taliban doesn't plunge Afghanistan into a full-blown Narco-State, primarily dependent on the narcotic market for its revenue? To para
phrase the report made by the US Special Inspector General for Afghanistan Reconstruction, – No one has a clue.
Answering a question on the effectiveness of various counter-narcotic strategies implemented by the United States, NATO, and other International Organizations, the Special Inspector's Report answered,
"The strategies called for a multi-agency, multi-pronged approach, but this was not delivered or implemented on the ground. Strategies also failed to recognize the constraints on achieving counternarcotics goals. They set forth counterdrug objectives that were outside the ability of U.S. counternarcotics institutions to achieve, did not prioritize counterdrug activities that supported wider U.S. strategic goals, and did not fully account for impacts on other reconstruction goals." (Hernandez, A., 2021)
While there does not seem to be a clear method of tackling the narco-state the illegitimate Taliban administration is attempting to build, one thing has to be made abundantly clear, that any solution HAS to involve an approach that rehabilitates Afghan society in a manner deemed fit by them, and not one that is a militaristic approach planned by foreign forces. Decades of failed international militaristic policies have led the globe to the current situation, a change in approach has to be implemented to ensure the region is both, – drug-free AND stable.
List of references
Abnett, K., 2021. Afghanistan on verge of socio-economic collapse, EU's top diplomat says H. Lawson, ed. Reuters. Available at: https://www.reuters.com/world/asia-pacific/afghanistan-verge-socio-economic-collapse-eus-top-diplomat-says-2021-10-03/ [Accessed October 4, 2021].
Anon, 2021. Afghanistan: How much opium is produced and what's the Taliban's record? BBC News. Available at: https://www.bbc.com/news/world-asia-58308494 [Accessed October 4, 2021].
Felbab-Brown, V., 2021. Drugs, security, and counternarcotics policies in Afghanistan. Brookings. Available at: https://www.brookings.edu/testimonies/drugs-security-and-counternarcotics-policies-in-afghanistan/ [Accessed October 4, 2021].
Inspector General for Afghanistan Reconstruction & Sopko, J.F., Counternarcotics: Lessons from the US Experience in Afghanistan, 2018. 1st ed.,
Landay, J., 2021. Profits and poppy: Afghanistan's illegal drug trade a boon for Taliban. Reuters. Available at: https://www.reuters.com/world/asia-pacific/profits-poppy-afghanistans-illegal-drug-trade-boon-taliban-2021-08-16/ [Accessed October 4, 2021].
Peters, G., 2009. How Opium Profits Taliban. United States Institute of Peace, 01(01).
PTI, 2021. Republican senators introduce legislation to impose sanctions on Taliban. The Hindu. Available at: https://www.thehindu.com/news/international/republican-senators-introduce-legislation-to-impose-sanctions-on-taliban/article36727816.ece [Accessed October 4, 2021].
United Nations Office on Drugs and Crime., World Drug Report – Drug Market Trends: Cannabis Opioids., 2021. New York: UN.
Author's short Bio
Arkadeep Pal is an 8th Semester Law Student studying in Alliance School of Law, Bengaluru. Arkadeep serves as the President of his University's Global Affairs and International Relations Centre, and has a deep interest in the subject and practice of International Law. With an ambition to contribute to the academic-space related to International Law, and Global Affairs, Arkadeep welcomes all and any opinions, comments, or criticism related to his piece. He may be reached through his LinkedIn account
PLEASE NOTE THAT ALL OPINIONS EXPRESSED IN THIS ARTICLE ARE THOSE OF THE AUTHOR ONLY AND DO NOT REPRESENT THE OFFICIAL POSITION OF THE UNIVERSITY FOR PEACE