Malala and the Children of Syria
Autor: Jahan Zeb
Originally Published at Peace and Conflict Monitor on: 02/20/2014
Category: Letters
The shelter, food, health and education of young people living under the poverty line all over the world has always been a concern. These issues become of even more concern in conflict zones when people become refugees en mass. The people of Syria are currently passing through such a human catastrophe. UNHCR and OXFAM inform us that over 2.3 million Syrians have become refugees, with almost twice that number being internally displaced. Over half of them are children. These young refugees are in desperate need of shelter, food, healthcare and education.
Malala Yousafzai, along with her family and over 2.4 million people from the beautiful and once peaceful Swat Valley of Pakistan were also forced to become refugees or internally displaced persons (IDPs) when they fled the fighting in the spring of 2009 between Pakistani Taliban militants and the Pakistan Army. Most of the IDPs of Swat valley have returned as a result of the Army operation against Taliban. However, the Internal Displacement Monitoring Centre established by the Norwegian Refugee Council in 2008 estimates that there are still 1.1 million registered IDPs displaced by conflict in the north-west of Pakistan, and many more are unregistered. These helpless displaced people are living in camps and host communities under critical circumstances.
Who can feel and better understand the pain and sufferings of refugees than Malala and her father, Ziauddin Yousafzai? Malala and her dad were unable to hide their tears and emotions when they witnessed young children and their mothers struggling to walk long treks to flee conflict zones by crossing the Jordanian-Syrian border. "Our hearts were bleeding for the bare footed Syrian children crossing the border […] Human beings are extremely suffering here," wrote Ziauddin, who shared his feelings with me via email from the Jordanian border. As an optimist, Ziauddin can see that the best can come out of worst: "Our eyes smiled seeing UNHCR and the people of Jordon are helping these refugees. Humanity is still alive."
Ziauddin made a passionate appeal from the conflict zone of Syria that "World leaders and politicians should be awaken and be united from their partisan positions […] they need to come and see hundred and thousands of Syrians children and families crossing borders to the neighbouring countries for safety."
Malala's Syrian trip has already caught the attention of hundreds and thousands of young people on social media. Her tears, her playing football with Syrian refugees, and her support will put the plight of Syrian children on world leaders' moral and political agenda. When Malala was an IDP in Pakistan, there was no one to support her; she stood up for her own right to return to her home, for education and peace. She stood up for every IDP, and for every child's right to access education and peace, and that earner her a top slot on the Taliban's hit list. She was attacked in cold blood in October 2009 but survived and emerged as one of the most influential and inspiring leaders of our time.
People are longing for peace both in Syria and Pakistan. World leaders need to feel the pain and tears of Malala and the children of Syria and refugees around the world.
Syrian refugees can no more be ignored as Malala and Malala Foundation is teaming up with regional and international organizations to help Syrian children get the education and peaceful return to their homes that they deserve.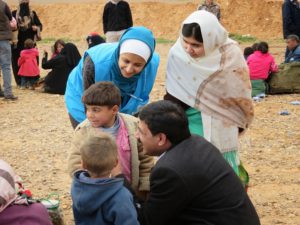 More photos of Malala with Syrian children: https://plus.google.com/photos/110944702979515705824/albums/5981109404881936305
Footnote:
Bio: Jahan Zeb is co-ordinator with Gandhi Peace Festival, a project of McMaster University and Hamilton community. jahanzebca@gmail.com